All-in-one solution
for impactful stewardship
Discover powerful features for effective stewardship to optimise portfolio engagements, simplify processes, streamline collaboration, save time and maximise returns.
Consolidate all portfolio engagements (single or thematic) in a unified dashboard.
Efficiently report by importing and linking voting records to engagements.
Easily create engagements for multiple companies with a single click.
Link companies with funds
Directly allocate companies to funds through the system.
Enhance traceability by tracking engagements against actions and milestones.
Efficiently upload company data in bulk with structured assistance.
Centralise portfolio and engagement-related files with secured file storage space.
Receive regular updates by synchronising milestones for each engagement to your calendar.
Interactive team onboarding
Experience smooth and effective onboarding with our interactive support team.
Control users' roles and access rights via the user's management panel.
Access unlimited support 24/7.
Dedicated success manager
Work with a dedicated success manager for strategic and ongoing assistance.
User guides and resources
Access online user guides and manuals for best practices and other references.
Data encryption, data back-ups, secure cloud hosting, measures to ensure protection from cyber attacks.
Restrict access to specific IP addresses, such as from a specific location.
Enhanced analytics based on global standards (GRI, SDGs, and more) power the dashboard and automated reporting engine. 
Automated real-time reporting
Automated real-time reporting
Access statistics & dynamic reports aligned with UK Stewardship Code recommendations.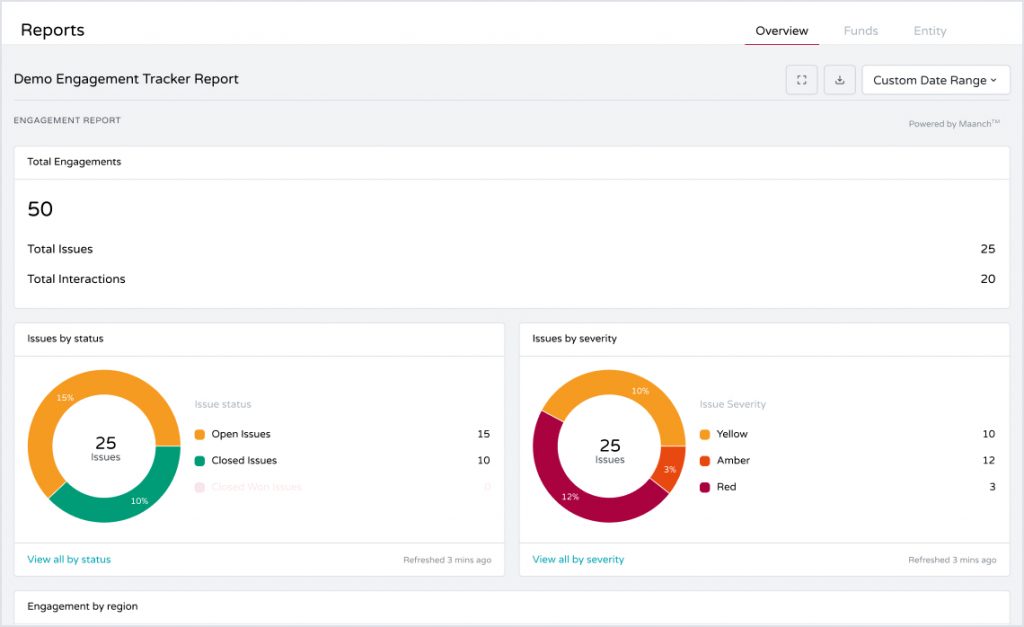 Easily export customised reports in multiple formats.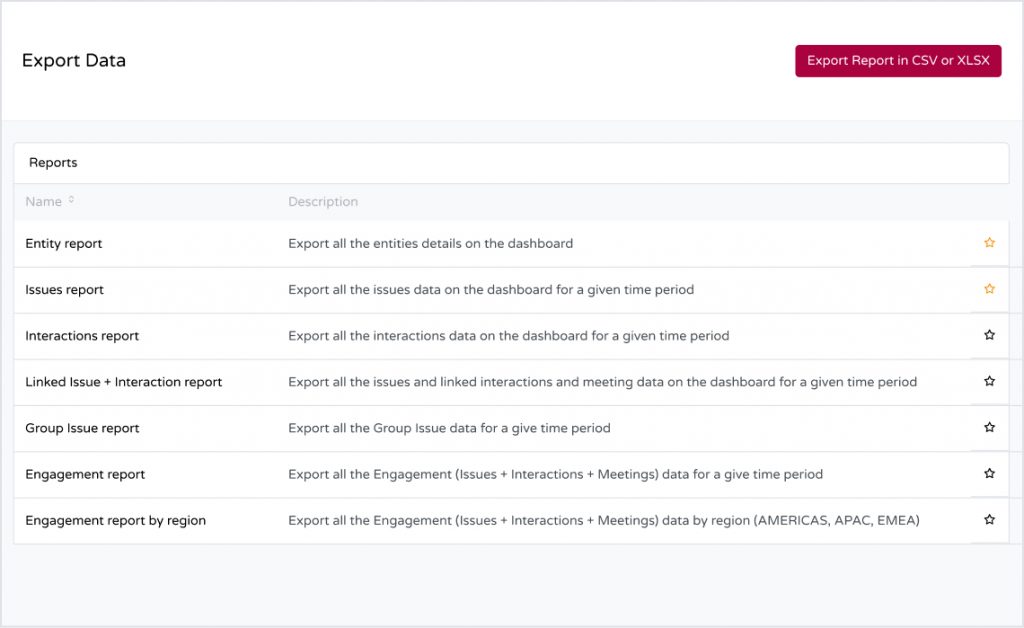 Automatically track engagements mapped to SDGs with the GRI Taxonamy.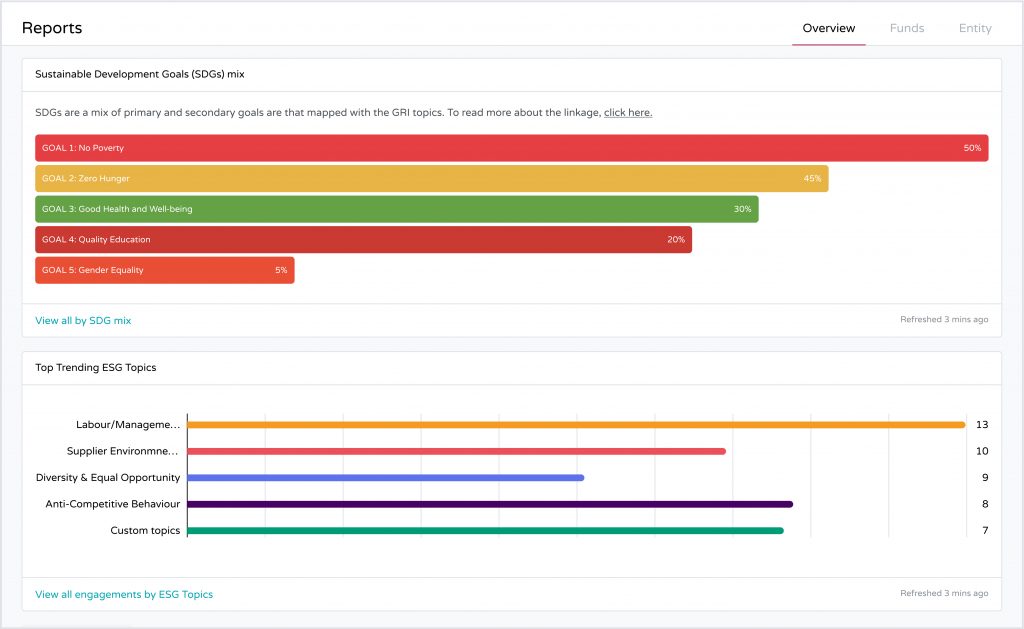 Stay updated with automated notifications and alerts.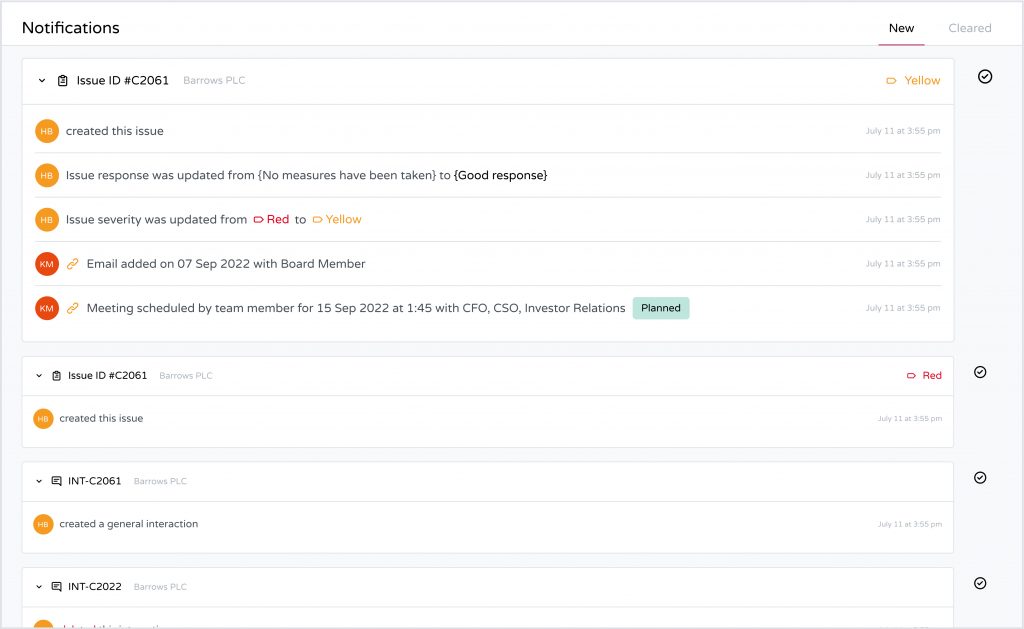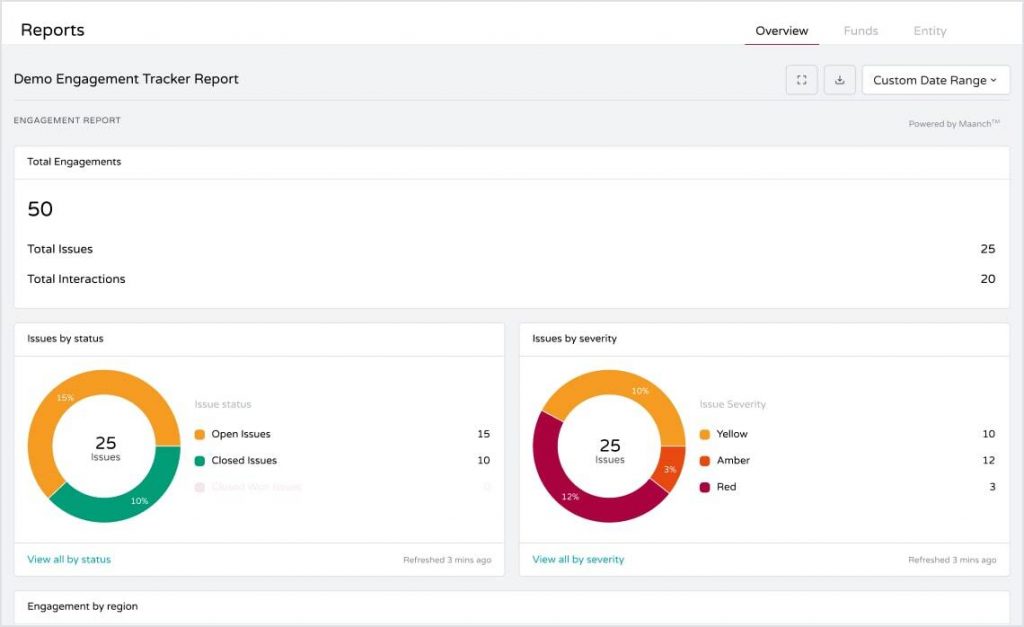 Custom user training sessions
Receive personalised training sessions tailored to your organisational needs.
Seamlessly migrate your historical data for companies, funds, engagements and voting to the system.
Website embeds for live reporting
Embed live reports onto your website.
SSO, custom API integrations
Secure single sign-on and custom API integrations with your internal and third-party systems, including CRM.
Access Maanch API to pull engagement data to your internal systems.
Custom development and plug-ins
Custom development and plugin options are available as per your needs.